PME Vitality consists of a custom online questionnaire for your employees. Your employees also undergo a physical examination tailored to them. Together with ArboNed, you decide on the content of PME Vitality, so that the examination fully matches your organisation's objectives. You will receive a custom report and ArboNed's experts will link concrete actions and measures to the results.
As such, PME Vitality is a complete health check that quickly gives your employees a picture of their psychological and physical health. They will gain a better understanding of their energy levels, well-being, lifestyle, capacity for work and work-related health risks. As an employer, PME Vitality gives you an insight into the health and occupational risks within your organisation,  helping you prevent employee absence and increase your people's commitment to the company. If your employees display vitality and enjoy working for you, they'll go the extra mile.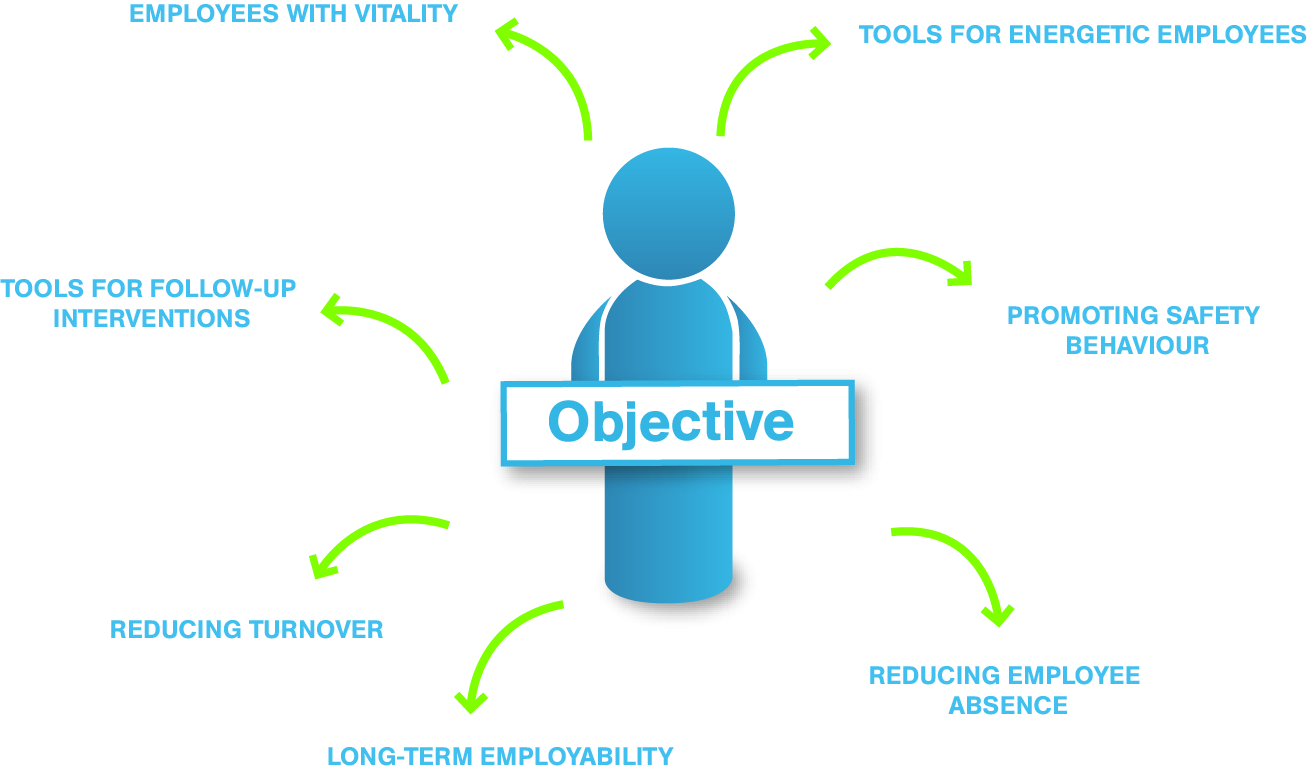 This is how it works
Your employees are given access to an online platform where they can complete a custom online screening questionnaire, after which they can view their results at a glance. Via this online platform, they then receive concrete tips and exercises for maintaining or improving their health and vitality. The questionnaire takes approximately 20-30 minutes and explores how employees see their health and lifestyles themselves.
In addition to the online screening questionnaire, your employees will receive a physical examination geared to their activities. The physical examination by one of our health and vitality experts can be performed at your location on request. It takes around 30-45 minutes and includes:
Calculation of the BMI (Body Mass Index) by measuring weight, height and waist size;
Finger prick to measure cholesterol and sugar in the blood;
Choice of PC examination (for PC workers), or hearing and lung examination (for employees in production environments);
Possibly augmented by further physical examination based on specific occupational risks.
More information about the physical examinations
All employees receive a personal consultation immediately after the physical examination. There is an additional focus on employees with an increased health risk.
Phases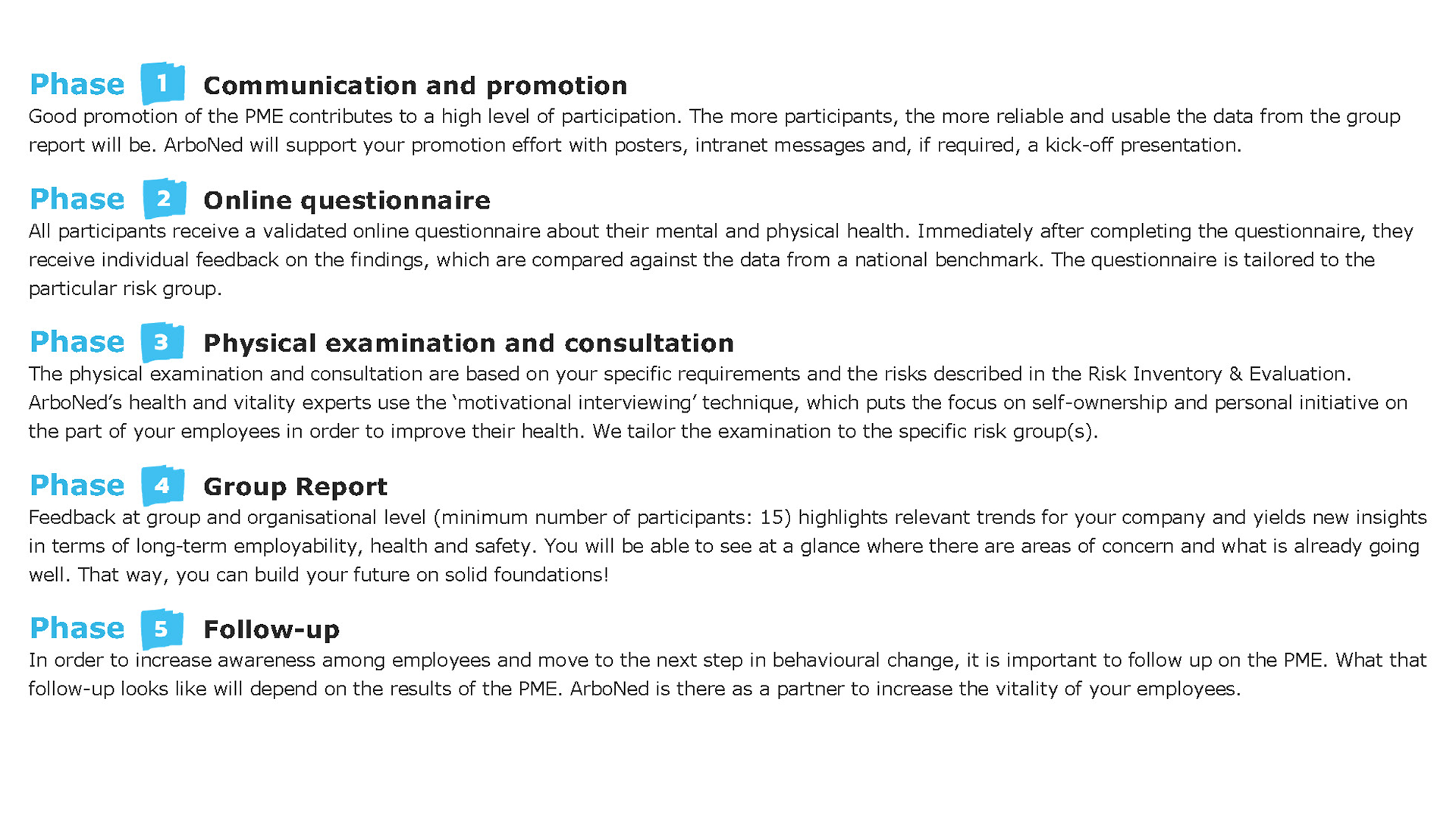 Custom group report
Once the process is complete, you will receive a full custom report. Our health and vitality expert will discuss the report with you. You can request additional sub reports, along with comparisons based on age, gender and department. You can also add a trend analysis to the standard report, for example to measure the effect of employing a vitality coach. If you want to go a step further, you can link your own specific data, such as employee absence figures and KPIs, to current vitality and productivity and translate them to the Financial Impact Score Card.
This means you can count on clear advice about how you and your employees can improve their health and so reduce the risk of employee absence. The advice is set out in the multi-year programme drawn up by the experts at ArboNed. The privacy of your employees is assured at all times.
Toolkit to inform your employees
Participation provides your employees with important insights and health benefits, and a higher turnout will provide you with a more reliable picture. ArboNed will be happy to help inform and motivate your employees, and we will provide you with a toolkit containing a poster and leaflet. 
The benefits of PME Vitality
Your employees gain a picture of their health, lifestyle and health risks
They are more conscious of the importance of good mental and physical health
With PME Vitality, you are complying with your legal obligation
You gain a picture of the causes of current/future employee absence related to work and/or lifestyle
ArboNed supports you in providing information to your employees
The physical examinations can take place locally to you or, if required, at your location
Employees who are at increased risk get a consultation with one of our health and vitality experts
PME Vitality yields a comprehensive report, setting out concrete actions fully geared to your business objectives
You will receive specific advice with conclusions and recommendations
You can link your organisation's KPIs to employee absence and productivity figures
You will receive sub reports and comparisons based on age, gender and department.
One of our experts will discuss the PME report with you.
PME Personal
Not looking for a tailored solution but do want a comprehensive PME with online screening questionnaire and physical examination? In that case, we recommend PME Personal.